Description of Digitroll Integra

The INTEGRA seedling controller is a high-end and versatile controller of the SPECIALIST DIGITROLL, which can adapt to a SEED IN LINE/CEREALES or a SEMOIR MONOGRAINE, with the appropriate cells on each. It is therefore possible to connect to the same INTEGRA monitor the beam of cells of an online seeder and then that of a monograin and vice versa according to need or seasons.
The INTEGRA DIGITROLL will immediately alert you (visual and audible alarm) of any grain descent problems.
complete blockage or seed absence
an abnormal drop/increase in density compared to an alert range (in LINE SEMOIR MODE)
the exact density on each row by counting each seed, with the possibility also of an alert range (in SEMOIR MONOGRAINE mode)
The monitor takes into account variations in flow in the descent tubes that may come from a change in speed thanks to its progress sensor and does not warn badly in case of slowing down or accelerating the machine.
Digitroll cells are known for their reliability, even for small seeds like rapeseed, and incorporate an automatic dust detection system.
For seeders equipped with solid fertilization or solid insecticide dispenser, INTEGRA can also monitor the flow of products using digitroll-specific cells (provided as an option) on the distribution circuit.
It can control up to 3 products (seed, fertilizer, insecticide)
Suitable for seeders up to 64 rows in double descent (64 seed – 64 ferti or 64 seed – 64 insecticide)
DISPLAY OF BOTH CONTROL MODES: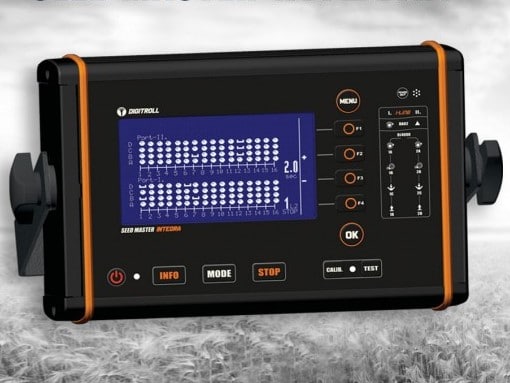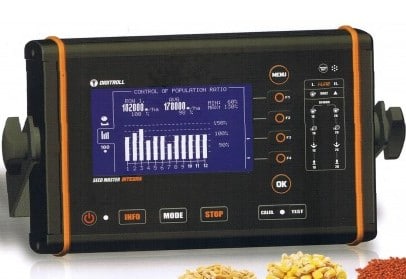 Technical features
Aluminium case
Screen 4.7″
12 buttons including 4 for general functions
Automatic number detection
Automatic setting in Online Sow mode or Monograin Sowing by the only detection of the plugged-in beam
Adjustable volume of sound
Standby mode
Multi-languages including French
2-year builder warranty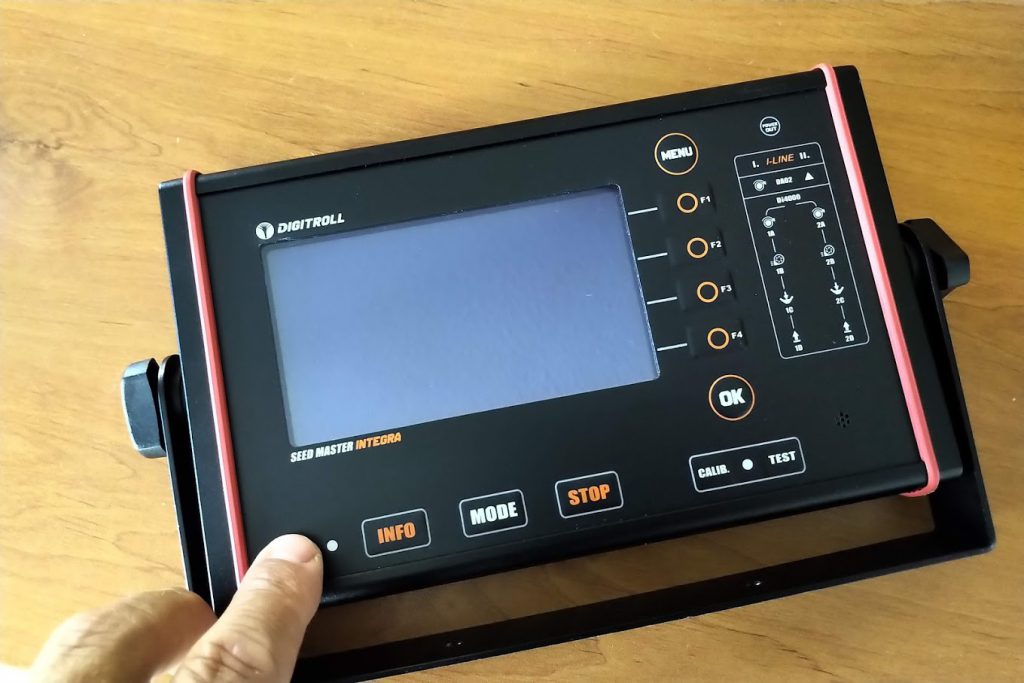 Sensor-blocking/no-seed sensors
DS4000i optimodules monitor the flow of seeds. Each cell is equipped with 4 light beams that detect the passage of seeds, even small seeds like rapeseed. Thanks to the easy and accurate calibration of the seed flow, blockages are detected immediately.
DS4000i sensors
Serial connection of 4-cell modules to each other (cable gain)
Control up to 64 rows
Adaptable for tubes 25-35 mm in diameter
4 beams per cell (detection of problems in less than 2 seconds)
Sensors very easy to clean by a manual sleeve degraffing system very fast, requiring no tools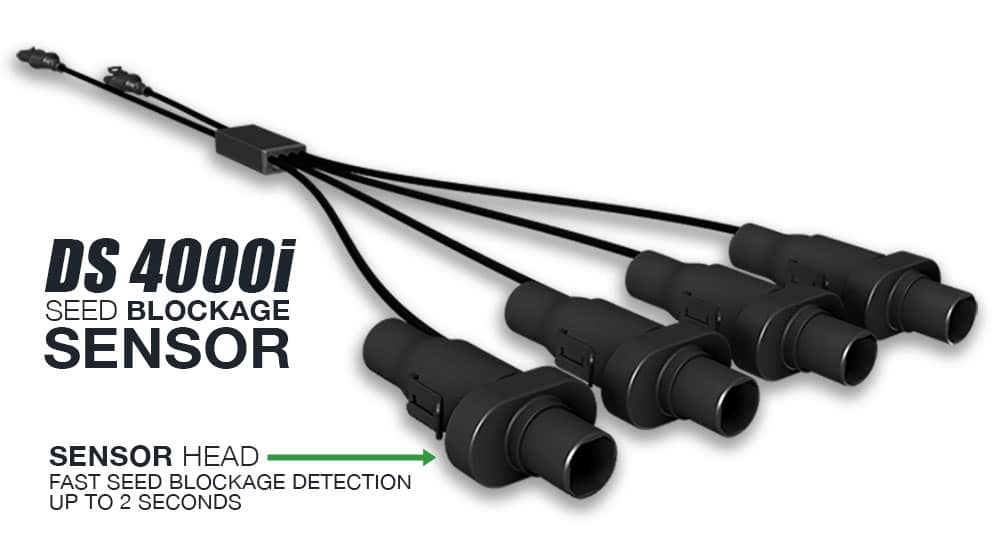 The DSGR 4000i sensors are suitable for the descent control of solid fertilizers.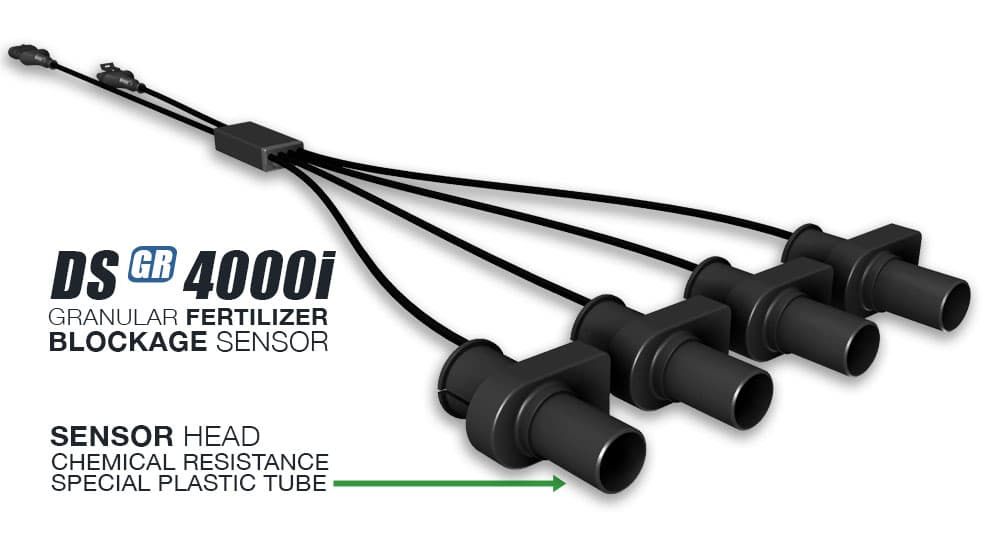 Photoelectric cells are preferentially placed at the exit of the distribution head on pneumatic seeders. The cuckoo/cuckoo of a snub by soil changes the pressure in the tube and consequently the passage of the seeds as soon as the distribution head is released. This is immediately detected by the cell.
On mechanical seeders, the cells are to be installed at the bottom of the descent, the detection of the plug problem will be done physically by filling the rows up to the cell.
On pneumatic seeders, at the top of the descent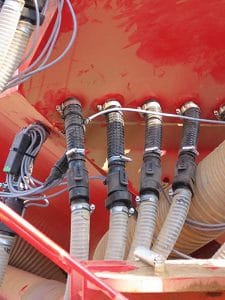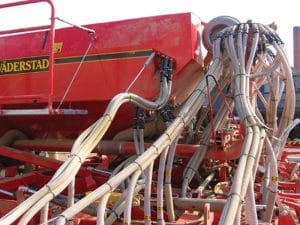 On mechanical seeders, at the bottom of the descent