Description of ESD – Modulation of single-grain seeders

MC Electronics' Electronic Seed Driver (ESD) system is the ideal solution to adapt your single-grain sower to seeding modulation.
Technical features
MC's Electronic Seed Driver (ESD) kit is an innovative system that transforms any single-grain pneumatic seeding with a mechanical transmission (chain or cardan) into a variable-speed electrical transmission seeder that modulates seeding density from an MC VT7 monitor connected to the tractor's GPS system.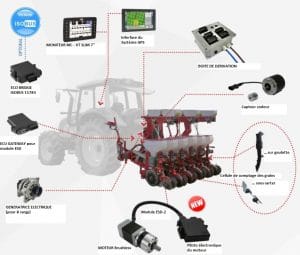 This allows it to apply the exact densities read in the prescription card inserted into the GPS monitor. The ESD can also be used without a GPS system that has the modulation function, by manually entering into the MC monitor a matrix of densities to be applied chronologically to the plot by informing each of the 'mesh'.
Automatic (GPS) and manual (GPS-free) density recommendation cards

The ESD kit consists of a 7" color graphic monitor installed on the tractor, an ECU (Electronic Control Unit) case, and for each row of a broomless electric motor (Brushless) with its electronic driver, and a cell to count the seeds.
If the tractor is equipped with ISOBUS, the KIT-ESD ISOBUS version is required. In this case, the ECU BRIDGE ISOBUS 11783-6 module, equipped with the wiring and specific connector, is added to the standard modules to replace the monitor provided in the standard kit.
Examples of adaptation of the ESD kit on Monosem and Gaspardo seed

ers
In any case, it is essential to communicate to us the exact model of sowing so that we can provide the specific supports of the electric motors as well as the cell supports.