AquaCheck capacitance probes: the global technical benchmark!
AquaCheck capacitance probes measure humidity and soil temperature simultaneously every 10 cm deep. They give the actual photography and dynamics of moisture on the entire effective root profile. They report:
horizons actually reached by irrigation or rains
the exact consumption of plants and climate in the precise context of the field and the mm to be brought to meet them as accurately as they can.
AquaCheck probes allow a great deal of flexibility of use, either very simplified analyses and synthesises or very sharp.
Operation:
A capacitive sensor sends an electrical current into a volume of soil around it to measure its moisture level (a measure of the dielectric permittivity of the soil). Unlike other types of sensors that measure moisture than by their surface contact with the ground, capacitive sensors measure moisture in a volume of soil, which is much more representative.
In addition, if a single capacitive sensor measures a single volume, an AquaCheck-profiled capacitive probe measures a volume of soil at its full depth.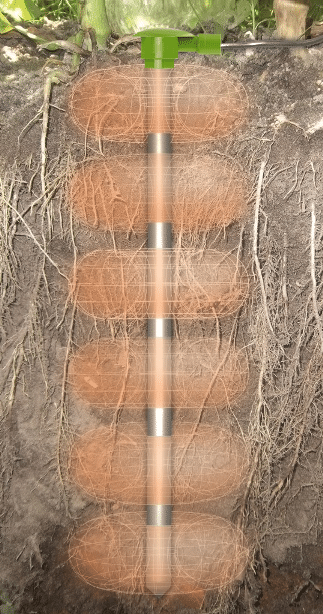 Why choose AquaCheck capacitance probes ?
1. AquaCheck capacitance probes are very robust
AquaCheck has designed its probes since its inception in 2002 on a remarkable process of full body probes with a perfect diameter-robustness balance which has largely contributed to the success and development of the brand around the world.
These are probes that support demanding agricultural and research conditions.
No specific maintenance, no off-season maintenance (totally inert equipment).
Their robustness allows them a longevity of over 10 years. Proof of our confidence in our equipment, AquaCheck probes have a 5-year manufacturer's warranty.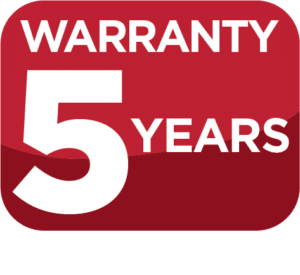 2. AquaCheck capacitive sensors are very accurate and reliable
Aquacheck probes have:
the same diameter over the entire length of the probe:

ensuring such accurate measurements and in the same volume of soil at all depths
allowing perfect installation no matter how deep you want
not requiring a specific form of auger

a diameter of 32 mm for sensors with high volume of soil measured regardless of the length or model of the probe
Unlike other probes that have only one or two calibrations to cover the variety of soil types, AquaCheck probes have a calibration panel to respond to all soils in the texture triangle.
The selection of the type of soil is done very simply on the Columbus web platform:
or by choosing All Soils for a standard approach
either by choosing the soil type of the field to use the plot-specific calibration
The graphic adjustment of the Field Capacity and the bottom of RAW (Readily Available Water) then allows to stick to the precise reality of the culture in its context (texture, structure, organic matter, rooting, …) and define the water comfort zone to control its irrigation.
3. Double expression of humidity in % and mm
The only system on the market offering a simultaneous double expression of moisture in % and mm in Columbus for a perfect fit to the context of the plant in its environment.
The unit of priority expression of humidity is a manufacturer's choice. AquaCheck has chosen to express primarily the values ​​in% moisture (volumetric moisture) which allows a finer adjustment of the conversion in mm (mm / cm of soil) compared to the actual rainfall. AquaCheck has several patents protecting its technology.
4. The AquaCheck capacitive sensor is the easiest to use
The AquaCheck capacitive probe does not require any field setting devices (computer, smartphone, etc.).
The AquaCheck probe can be moved from one season to another and from one very different type of soil to another without having to be re-calibrated (e.g. from very sandy soil to heavy soil).
It is easy and quick to install with an auger of the same diameter as the probe (32 mm). No praline on sandy soils; with very fine praline on other soils to flush the air and ensure perfect contact between the probe and the ground (see videos at the bottom of the page). We provide a installation/removing guide.
It's easy and quick to remove (see videos at the bottom of the page).
Once trained, the user can install his AquaCheck probes himself and is therefore not dependent on a technician for their installation.
5. The widest depth range on the market
The widest depth range on the market with 2, 4, 6 …. up to 15 sensors: 20 cm, 40 cm, 60 cm, 80 cm, 100 cm, 120 cm, 140 cm, 150 cm.
This range meets the specific needs of the most varied soil, cultivation or exploitation contexts in the world. The most versatile is the 60 cm probe with 6 humidity sensors and 6 temperature sensors.
6. Three different ways of recovering measurements
Three different ways to recover measurements to display in the Columbus app:
2G (GPRS)/3G communication network (data transfers every 15 or 30 minutes)
Sigfox low-power communication network (data transfers every 15 or 30 minutes)
by the Portable Shutle reader (radio)
7. A real telescopic mounting pole
While main of competitors provide low cost and short mounting pole, our mounting pole is:
telescopic ( to adapt to all size of plants)
in aluminium ( light and durability)
40 mm diameter ( robustess)
8. AquaCheck and CoRHIZE experience for supporting you
All the know-how of AquaCheck, South African pioneer and world leader in full-body capacitive probes, and CoRHIZE specialized in irrigation management for more than 10 years. We put all our agronomic and technological experience at your service for the best possible use of our solutions.
With or without a rain gauge?
If a capacitive probe is sufficient on its own to track soil moisture, it is very interesting to know the rainfall that fell at the site of the probe, both for rains and for irrigation, because:
rainfall/showers may differ from one location to another in a farm, and sometimes even between nearby fields
irrigations may also not be perfectly homogeneous depending on the location of the field.
At CoRHIZE, we encourage the use of a rain gauge associated with a probe that automatically reassemizes data in Columbus:
to know exactly the volume that fell (in irrigation, it is sometimes different from the one programmed …)
for, with this precise information in support of the different AquaCheck calibrations for all types of soil, fine-tune the mm setting of moisture in the soil. A unique process for a unique precision on the market.
NB: namely that in Columbus it is quite possible, if there is no rain gauge, to manually enter the volumes brought to see them displayed on graphs (such as drips for example)
The different models of Aquacheck capacitance probes
The "sub-surface" model with telemetry / communication unit
The "sub-surface" model for telemetry, with a very discreet flat head, which can be pressed either just to the surface of the ground or below the surface if necessary. Its cable connects to a telemetry box that sends the data to the Columbus web platform for viewing. It is the most widely used model today given the practicality of telemetry.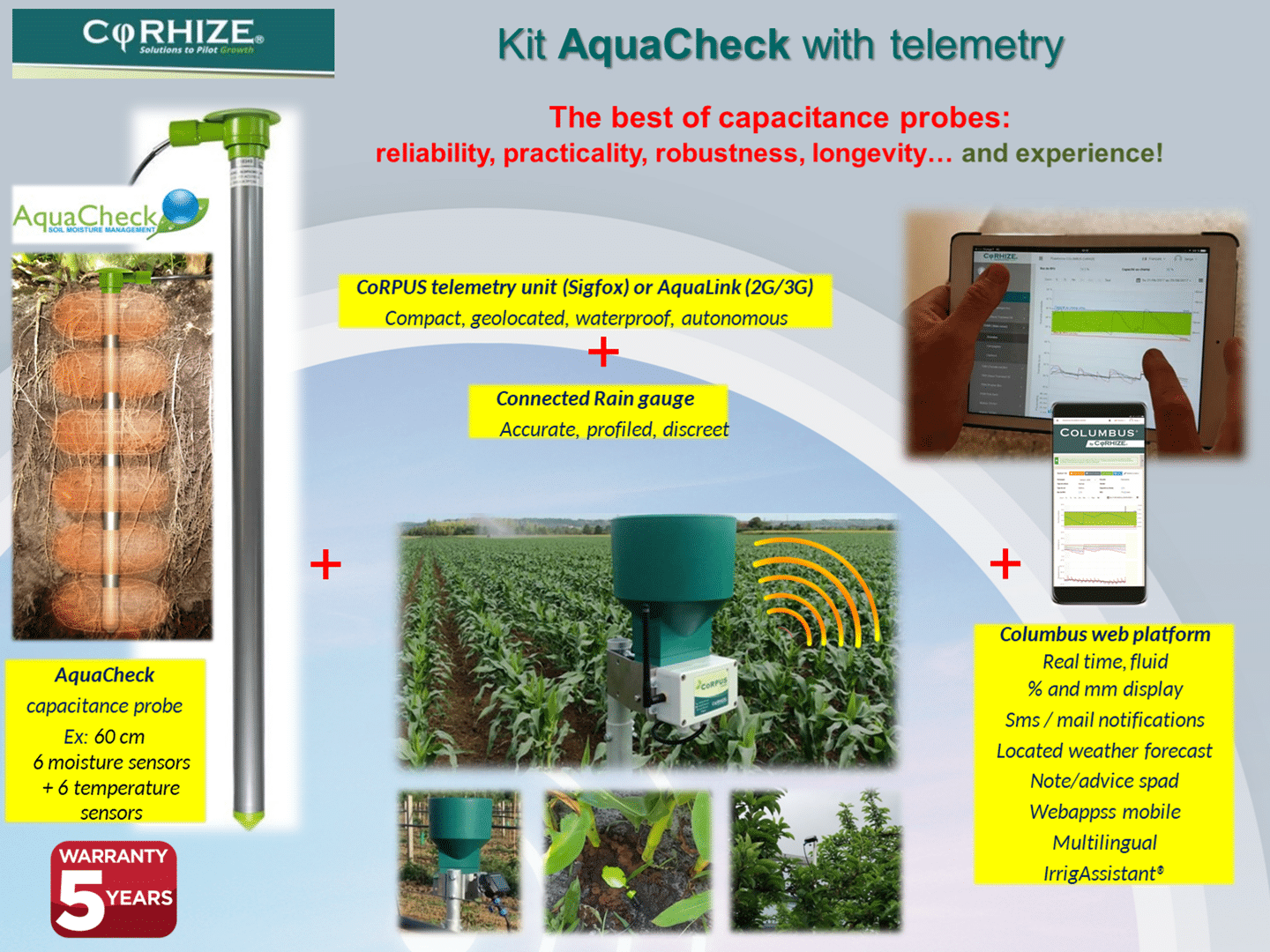 The "wireless" model for infield readings
The "wireless" model for field surveys, with a more pronounced head, contains a data recorder (logger), a transmitter and a battery. The probe has the same frequency of measurements as the traditional sub-surface and records them in its memory. Using the portable Shutle radio player, the user comes to query each probe up to a distance of about ten meters and download the data recorded since the last operation. The same logger can record up to 120 probes.
Once the user has completed his survey tour, he empties his data on his PC, which automatically pushes it over the internet on the Columbus web platform to be accessed, as well as data from the sub-surface probes. AquaCheck Wireless sensors provide very cost-effective access to all the benefits of capacitive-profiled technology. Better yet, it is possible in a second time to change the head to connect it to an automatic telemetry station.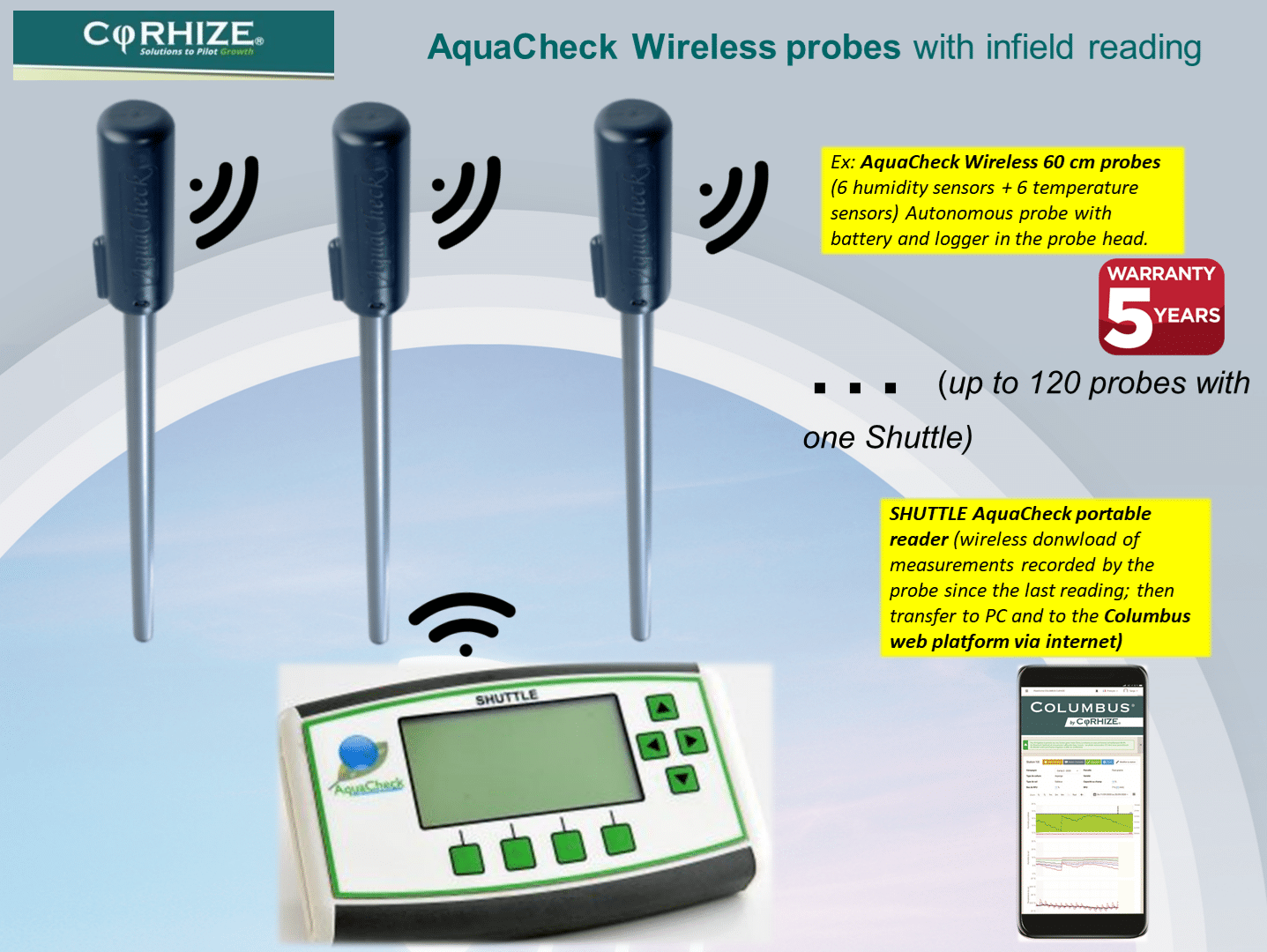 A detailed view of the evolution of humidity and soil temperature every 10 cm deep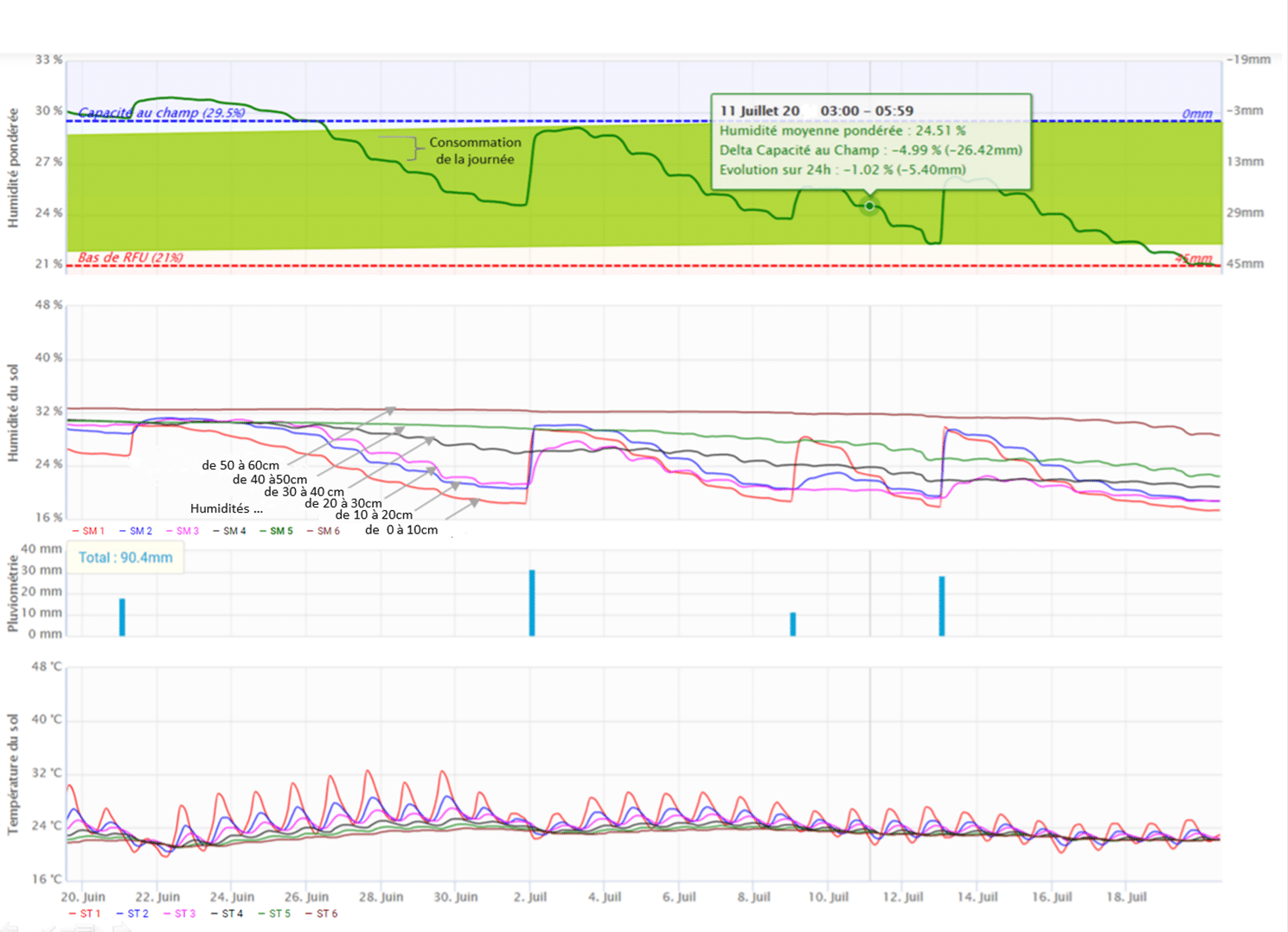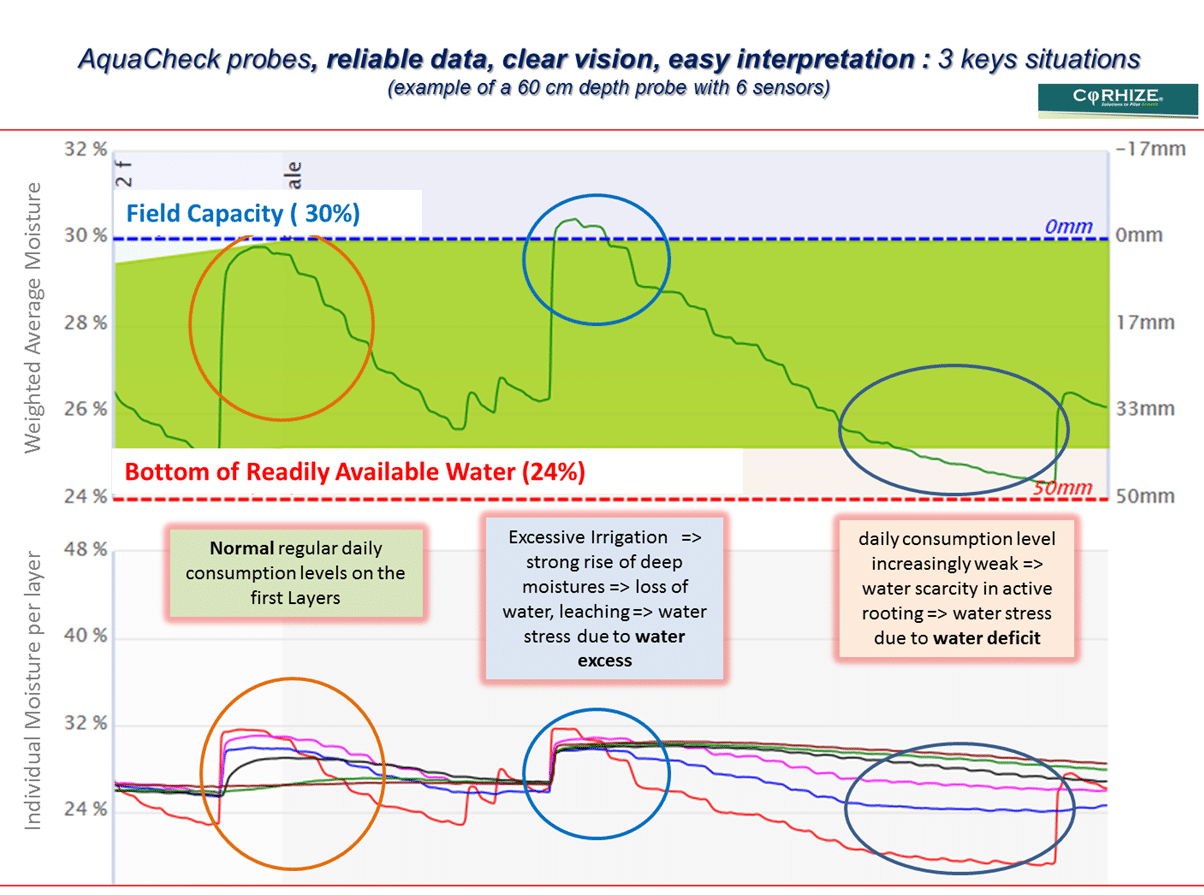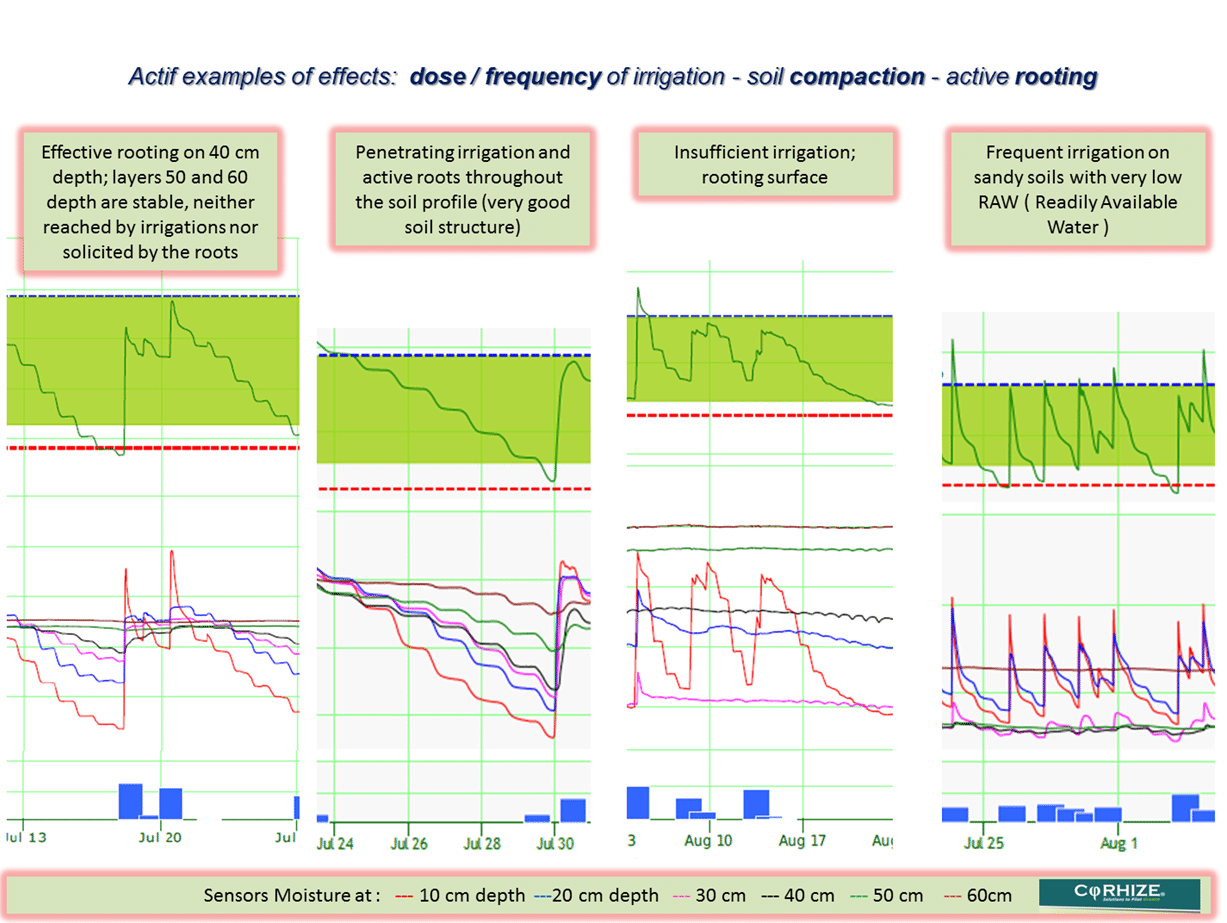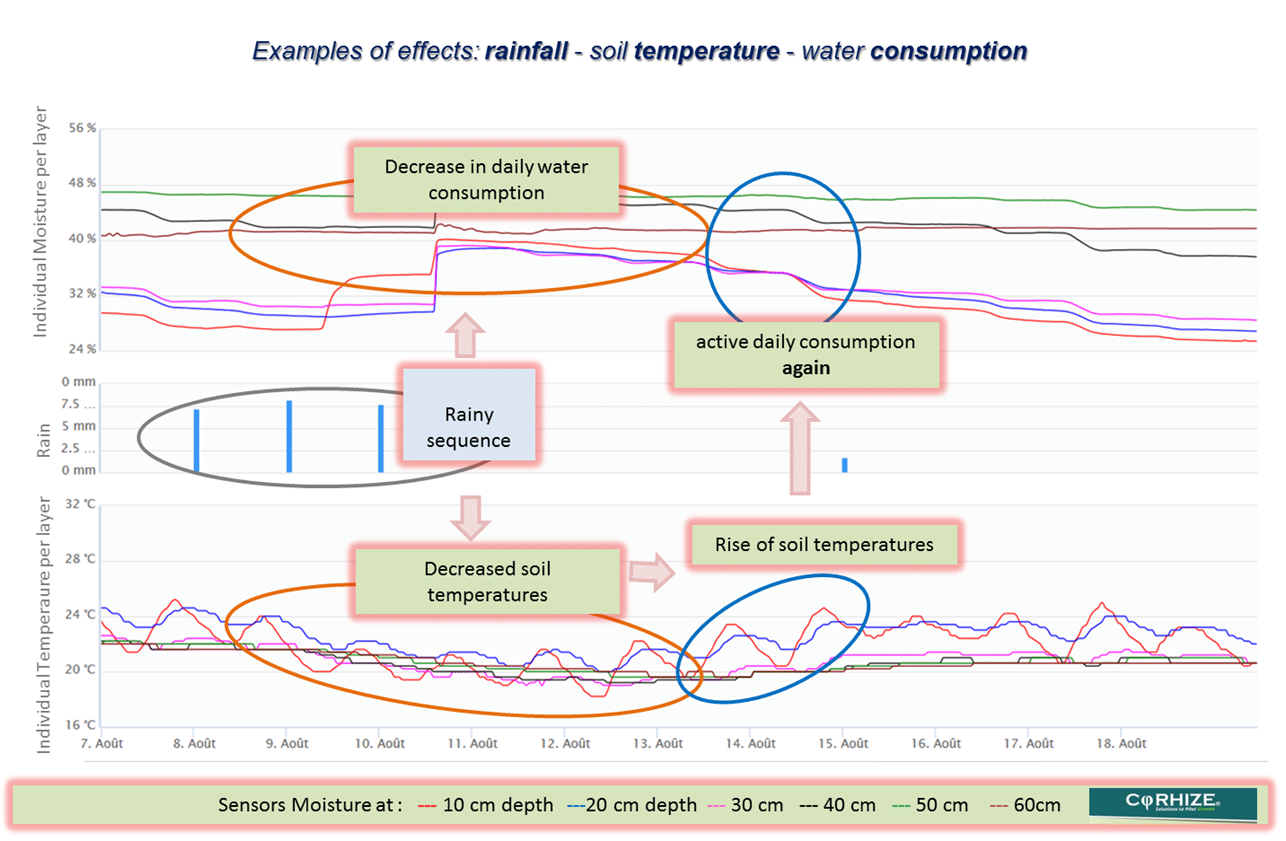 CoRHIZE combines several telemetry models according to needs and contexts
AquaLink EA from AquaCheck (GPRS/3G network)
compact, discreet, very robust, waterproof (IP67)
light, very easy to move
includes a Lithium battery charging with a small solar panel
automatic GPS geolocation
can receive a rain gauge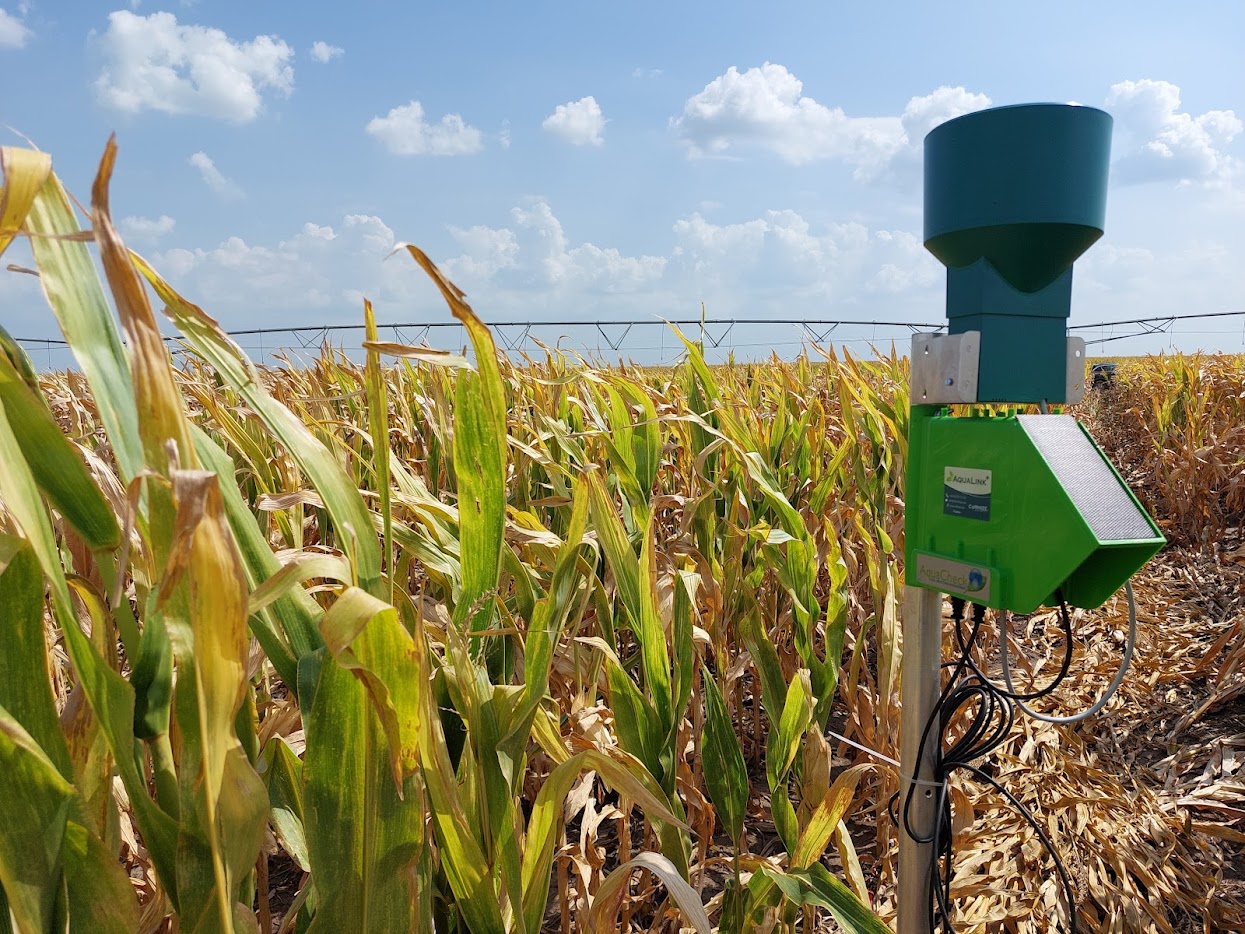 CoRHIZE CoRPUS telemetry (Sigfox low-power network)
very compact, discreet, robust and waterproof (IP67 class)
two long-lasting Li-ion batteries, RECHARGEABLE by micro USB port with a smartphone-type charger
Immediate start-up and offline
SigFox Class 0 certified integration
very high sensitivity RF (up to -165 dBm) far above market standards allowing communications in areas with low coverage
automatic GPS geolocation
very versatile because can receive a rain gauge and different types of sensors (see page agro-weather station CoRPUS)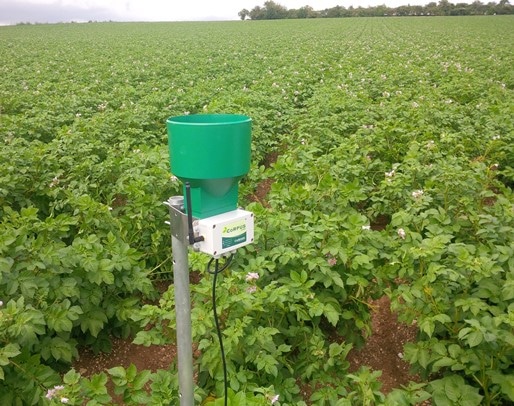 CoRHIZE's Columbus interface consultation
Quality of sensors is the fisrt step . On the other side, quality of platform is very important too.
Our Colmubus web platform meets the expectations of all customers who want accurate, fast and clear tracking. It is the result of years of experience in contacting customers of all profiles and requirements.Columbus was specifically designed for irrigation piloting and is now a reference on the market.
Find all information on the Columbus web platform page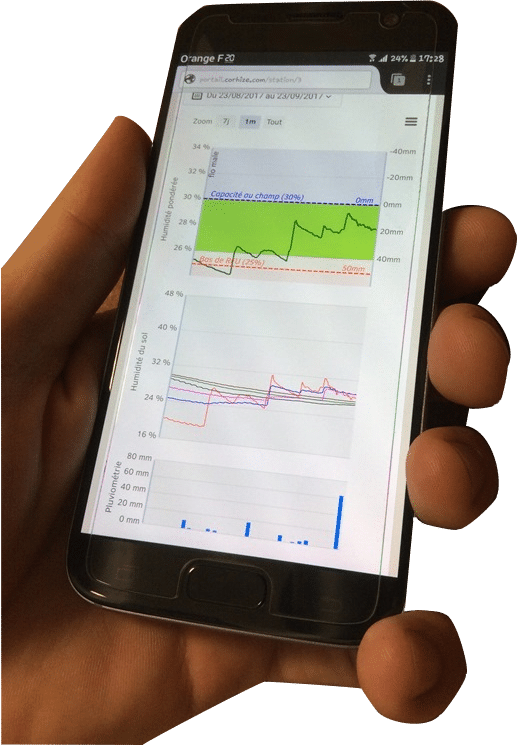 CoRHIZE support tailored to your needs
If our mission is primarily to provide you with equipment and assistance to enable you to obtain reliable information at all times, we also accompany you with:
training on the positioning of the material in the fields and on its installation/removing
training in web platform use and data interpretation for quick and accurate decisions (when to irrigate and how much)
several specific and long-term support solutions
an optional service to assist in the optimized positioning of probes in the most relevant parts of the fields thanks to our Soil Conductivity Mapping service
CoRHIZE is the only structure approved in France by AquaCheck (Pty) to distribute and offer a 5-year warranty on its probes, train users for their use and the interface dedicated to the control of irrigation with the calibrations and specificities of its probes.