Description of the scalable plug controller

MC Electronics' Universal Seeder Control (VT7 USC) controller is a scalable solution to full control of your seedlings. If basic it alerts to seed plugging/absence and precise variations in seeding density, it can evolve into seeding modulation, individualized row cutting or staking.
Technical features
MC Electronics' VT7 Universal Seeder Control (USC) online seeder control system is characterized by a simple, modular structure.
The system covers the functions of:
Blocking/No seed to monitor the passage of seeds and/or solid fertilizer
Control of seeding density, flowing with BM cells or unit with Pro Seeder cells.
It can evolve into other functions:
Semis modulation through the use of an electric motor on the distribution to replace the existing mechanical/hydraulic distribution
Cutting rows (if each line of the MC electrovan seeder is equipped) to manage the spikes
Jalonnage (Tramline) to close the rows corresponding to the passage of the wheels of the tractor for further interventions (sprayer/fertilizer distributor).
The system is configured to be interfaced with the main GPS systems on the market, in order to modulate densities but also to automatically manage the closing of rows, thus avoiding superimposed seeding and resulting in seed savings.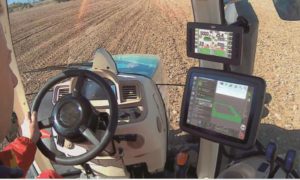 In any case, it is essential to give us the exact model of seeder so that we can provide the right equipment.